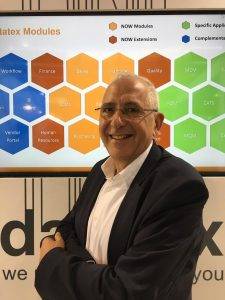 In an interview with the Indian magazine Stitch-world Our CEO Ronnie Hagin, provides an interesting insight to the current textile industry situation and how the new distance Quality Measurement System works.
First of all, it is important to underline that supply chains will become shorter to reduce dependency on others and increase margins, hence textile manufacturers will start cutting and sewing and vice versa. This process goes along with the digitalization of the industry, which is the ability to process the information of planned and executed production leading to optimized and enhanced customer service.
In order to effectively integrate the concept of Industry 4.0 and the ERP systems, it is important to assure real time updates of schedules with real results and actual information about stock availability. In doing so, scheduling activities can run based on real data.
The automation of all communication via the web in real time is fundamental for the customers as well. In fact, they can have updated information about their order status, thanks to a system that calculates an accurate delivery schedule by applying advanced planning logic.
Quality assurance of the product is a key factor for any manufacturer, but in this period of social distancing it is important to substitute the traditional physical quality tests made by buyers. Indeed, a remote Quality reporting system can provide online test results at all stages, allowing the full traceability of raw materials. This type of tracking is already required in the recycling audits to identify the real content of recycled fibers in finished goods. Our Lot Management tool is a two-way tracking tool, from garment to fiber and from fiber to garment managing all intermediate levels as required.
Furthermore, Datatex offers a fabric inspection software that records the detailed defect map of every piece produced to be used for cut optimization and defect traceability. As soon as fabric arrives at the garment producer, the software automatically detects all defects and uploads an online map which is accessible to the cutting room team.
By the way of conclusion, we can connect the concept of quality assurance to one single word: confidence.
Indeed, Datatex software can instill confidence in the customer about the company's transparent practices by providing online quality reports and allowing the manufacturers to attach online video with actual test results. Lastly, to maximize trust, Datatex can also create a procedure where the next step is not progressed until customer approves QA results.