Our Cloud solutions guarantee great advantages and an excellent "Return on Investment"
Cloud means drastically reducing costs. No hardware investment and consequently no maintenance costs. Our technicians actively monitor the performance of our systems to offer their best efficiency.
Cloud means you can access anytime, anywhere. A new way to access IT infrastructures regardless of the concept of hardware ow- nership: an active and borderless collaboration between colleagues, staff, customers and suppliers.
Cloud means security. The robustness of our servers guarantee the security of your data. RAID technology disks and daily backups al- low you to efficiently store your data for use in case of a Disaster Recovery.
Cloud means power. Thanks to a solid cloud infrastructure the power of the machine increases to the need without the user noticing it, allowing absolutely better performance. As a result, companies free up human and economic resources to devote them to other evolu- tionary projects.
Cloud means sustainability. Thanks to the centralized IT infrastructu- re, energy consumption is adapted to the actual use of the systems. A significant contribution to the environment, an essential prerogati- ve to ensure the stability of an ecosystem.
An affordable solution that fits into your business and grows with you.           From SME to large industry, with NOW Cloud you'll find the right solution to give value to your business. NOW Cloud is available for various types of companies and for a diverse number of users.
Standard
Designed for companies that want to immediately benefit from the power of NOW or for the small production reality. The modules included are a "boost" for each activity.
Adavanced
The best modules are included in this ideal package for the SME looking for a winning solution. Everything under control for unparalleled growth.
Enterprise
For large enterprise or industry, this package covers most areas of activity to ensure accurate control of each process.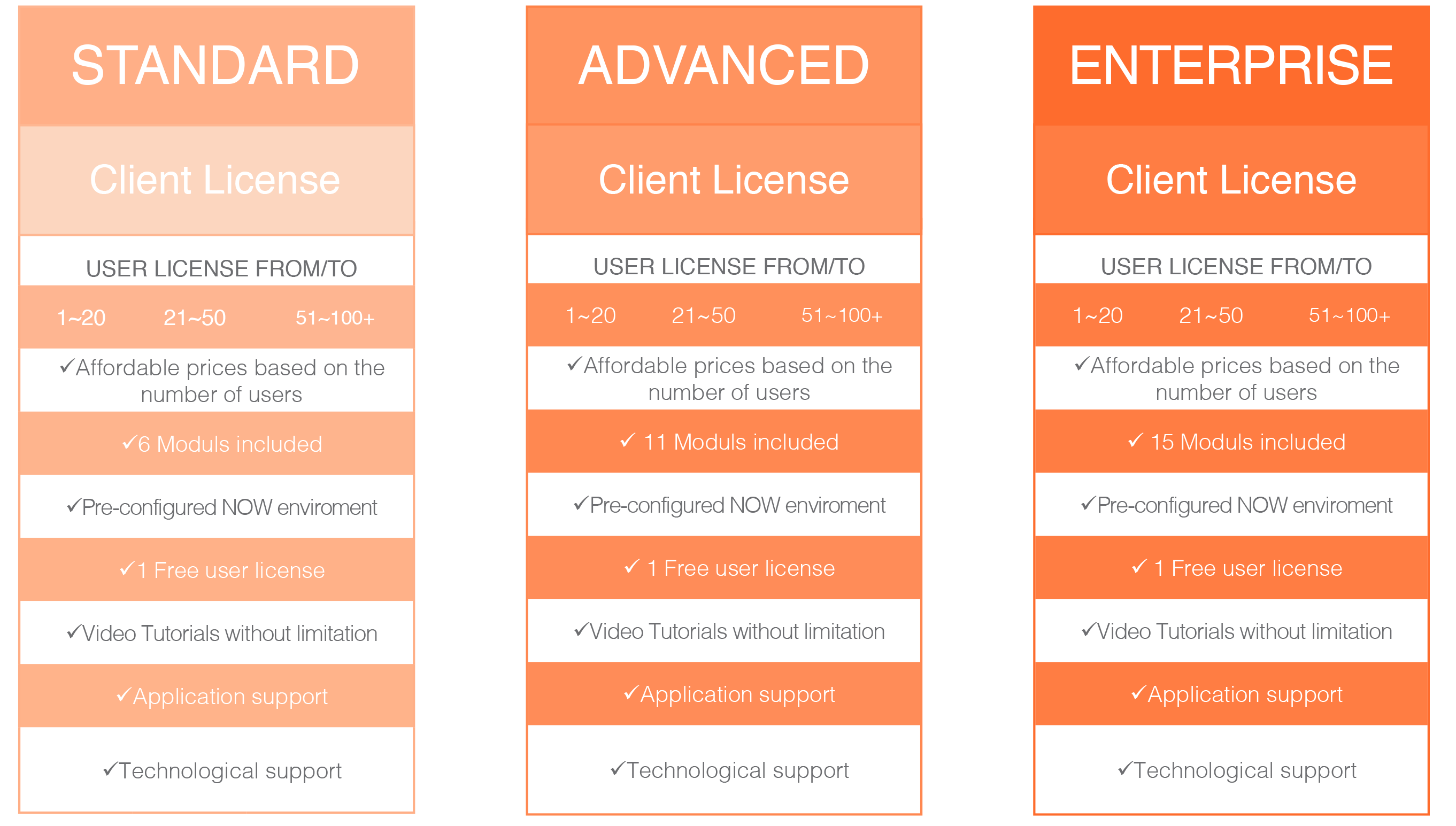 The NOW Cloud benefits
Take part in the Datatex ERP NOW Cloud program and you will benefit from many advantages.
GET YOUR BUSINESS OFF THE GROUND WITH DATATEX' NOW COUD SOLUTIONS 
No membership fee

There are no costs associated with joining the Datatex Now Cloud Program.

Recurring monthly fee

A clear and discounted monthly fee based on the actual Active Simultaneous User Licenses.

Preconfigured Environment

The pre-configured environment allows a fast company set-up to be immediately operational.

Free license

1 free NOW Cloud user license to share among your Team for teaching, learning, testing etc.

Video Tutorial

Video tutorials available without limitations with which your users can independently learn how to use the various modules of NOW Cloud.

Application/Technological Support

For each profile (Standard, Advanced, Enterprise) there are a number of hours of Application/Training Help Desk to use individually or share with your team.
Download
Download NOW Cloud brochure to find out more or contact us!