Rešenja koja nudimo u Cloud-u garantuju velike prednosti i odličan ROI "Return on Investment"
Cloud znači drastično smanjenje troškova. Ne postoji nijedna investicija za hardver i, posledično, nema nikakvih troškova održavanja. Naši tehničari aktivno kontrolišu performanse naših sistema kako bi omogućili najveću moguću efikasnost.
Cloud znači da imaš pristup uvek, gde god da se nalaziš. Nov način da imaš pristup IT infrastrukturi bez obzira na to koji hardver imaš: u pitanju je jedna aktivna i neograničena saradnja između kolega, zaposlenih, kupaca i dobavljača.
Cloud znači sigurnost: snaga naših servera garantuje sigurnost tvojih podataka. Diskovi sa RAID tehnologijom i svakodnevni bekap (back-up), omogućavaju efikasno čuvanje tvojih podataka, tako da možeš da ih koristiš i u slučaju eventualnog oporavka od kompletnog gubitaka podataka (Disaster Recovery).
Cloud znači snaga. Zahvaljujući jakoj cloud infrastrukturi, snaga mašinerije raste u skladu sa zahtevima, a da korisnik to ni ne primeti, pružajući na taj način najbolji mogući učinak. Kompanije tako oslobađaju ljudske i ekonomske resurse i usmeravaju ih na druge razvojne projekte.
Cloud znači održivost. Zahvaljujući centralizovanoj IT strukturi,energetska potrošnja se prilagođava efektivnoj upotrebi sistema. U pitanju je značajan doprinos u očuvanju životne sredine, što je suštinski preduslov za garantovanje održivosti ekosistema.
Dostupno rešenje, koje se prilagođava tvom preduzeću i raste zajedno sa tobom.
Od malih i srednjih preduzeća do velikih industrija, sa NOW Cloud-om naći ćeš pravo rešenje i pridodati novu vrednost tvom poslovanju. NOW Cloud je na raspolaganju za različite tipologije preduzeća i za različit broj korisnika.
Standard
Osmišljeno za preduzeća koja žele odmah da iskoriste snagu NOW sistema ili za manje proizvodne strukture. Moduli koji su uključeni, daju novu snagu svakoj poslovnoj aktivnosti.
Advanced
Najbolji moduli su deo ovog paketa idealnog za mala i srednja preduzeća koja su u potrazi sa pobedničkim rešenjem. Sve pod kontrolom, uz rast bez premca.
Enterprise
Namenjen velikim preduzećima ili industriji, ovaj paket zadovoljava veći deo svih poslovnih aktivnosti i garantuje preciznu kontrolu svakog procesa.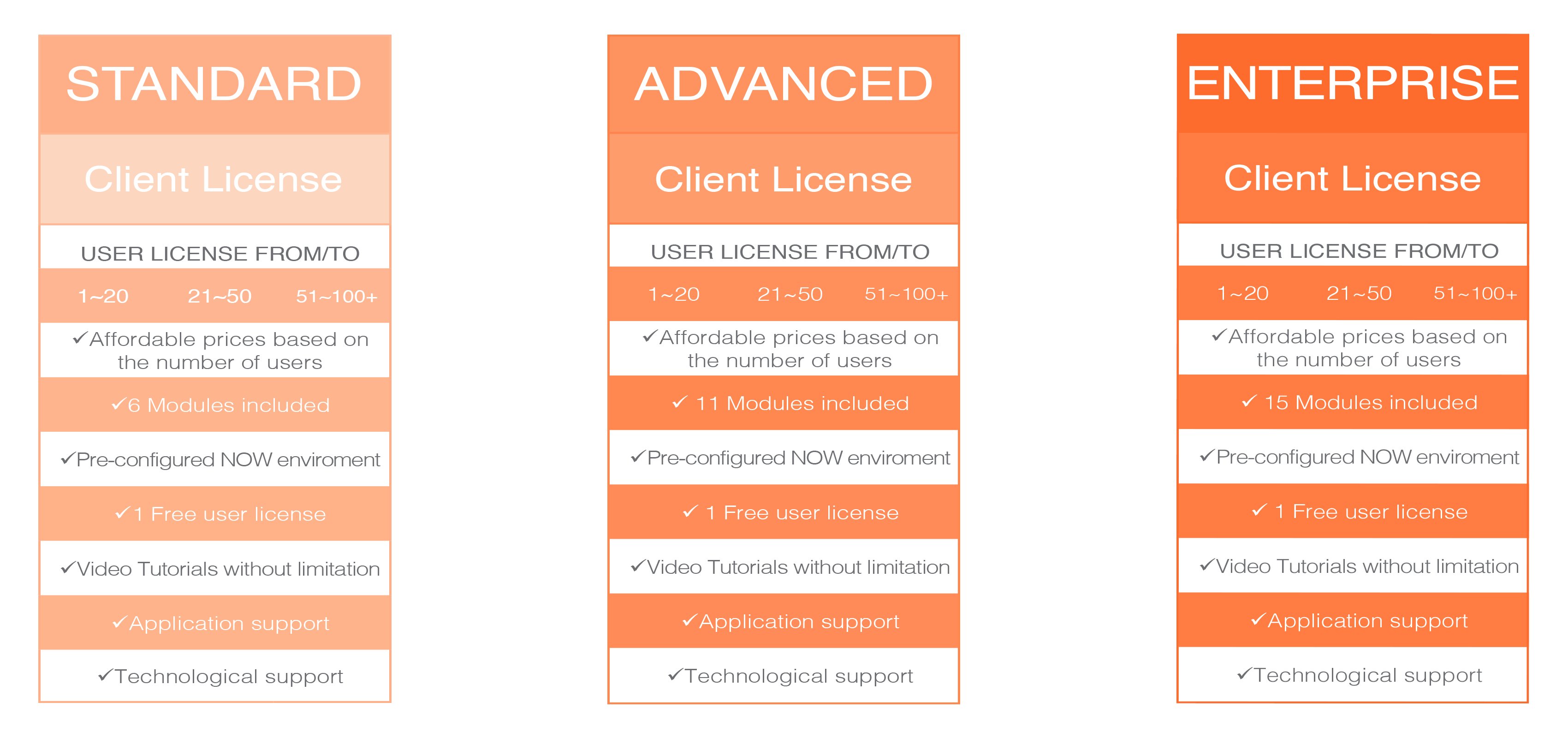 Prednosti NOW Cloud-a
Učestvuj u programu ERP Datatex in Cloud i imaćeš brojne prednosti
NEKA TVOJ BIZNIS DOBIJE KRILA SA REŠENJIMA DATATEX  NOW CLOUD
Bez troškova pristupa

Nema nikakvog troška vezanog za pristup programu "Datatex Now Cloud Program"

Redovna mesečna pretplata

Jasan pregled mesečne pretplate umanjene u odnosu na broj aktivnih Simultanih Korisnika Licence

Unapred konfigurisana sredina

Predkonfigurisana sredina omogućava brz set-up (postavku) koji je odmah operativan.

Besplatna licenca

1 besplatna NOW Cloud korisnička licenca koju možeš da deliš sa članovima tvog tima sa ciljem učenja, obuke, testiranja itd.

Video tutorijal

Video tutorijali su na raspolaganju bez ograničenja. Uz njihovu pomoć tvoji korisnici mogu samostalno da nauče da koriste različite NOW Cloud module.

Podrška u aplikaciji/tehnologiji

Za svaki profil (Standard, Advanced, Enterprise) predviđen je određen broj sati korišćenja Help Deska-a za Aplikaciju/Trening, bilo individualno bilo zajedno sa timom.
Download
Preuzmite brošuru NOW Cloud!